I like to consider myself as a cookie mate.
I consider baking and decorating cookies as a hobbie, not a "to do" thing, and I think that's what makes it beautiful and heartwarming. Each cokie I decorate is one and only, maybe because I decorate them depending on the feeling I'm experiencing in that precise moment.
When I'm starting making the dough for the cookies, I don't know how it would end. I like to observe all the process and watch how it evolves to materialize in my feeling instead.
As you can imagine, all the cokies I bake are home made.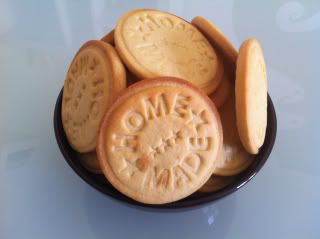 I find it as a perfect way of selfexpression. What I'm trying to explain is that, of course, I don't do this for selling. I realize there are so many professionals and artists who do so admirable and marketable works.
In my case, I like to share them with my family and friends, and observe their reactions, and how they recieve the cookies I bake the exactly way I expected while I was baking them.
It's so rewarding when my loved ones like the things I do, and how they make me improve and develope my designs, giving me good advises and contributions in decorating.
I think it's so beautiful when a hobbie you like becomes something plural, as an union of good feelings and good tips.
So, if you had one, I'd be so grateful to receive your comment, or email, or... whatever! as a good advise!!
I love when someone of my dearest ones count on me to make a present to someone they love. I feel so grateful and complete when that happens, because I see how all the feelings I put on my decorated stuff work.
That's why I consider myself as a cookie mate...
A GoodCookie mate.
I think everyone could be a GoodCookie mate...
Are you?
Thx you all for reading!