Could anybody tell me if there's something more beautiful and gorgeus than a new born?
When a little baby arrives for the first time into a new family is such a reason for happiness and celebration for everyone. People share joy and best wishes all around, taking advantage of the situation to see all that family persons that didn't see from a long time ago.
It's a great opportunity to take some pictures as reminders of that special and sweet ocassion.
OK... Pictures are great reminders, but what would you think if I told you there could be some other reminders that are as sweet as the situation itself? What if you could try a reminder as you were tasting the moment?
The answer is right here...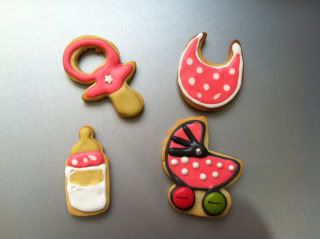 Mmm! They seem so tasty that appears to jump out of the screen as if I could get them!
Of course... It's all about the colours... Blue ones are for little boys and pink ones are for tiny girls, each one has the right to be the star protagonist of their own movie!
Who wants to taste reality?
Thx you all for reading!